Rami Kilani: Designer & Typographer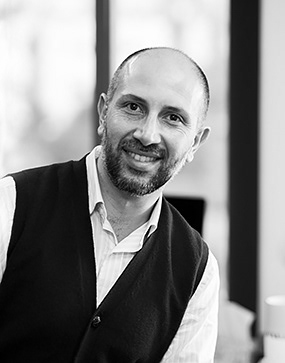 In simple terms, I'm a Designer, but what I do is develop brands and design logos and typography. I believe in the theory of "form follows function," where a good design allows users to interact with it without jarring the senses.
Visual communication design excites me because it's a practical, flexible and adaptable discipline. As human beings progress, the way we express ourselves visually keeps transforming and growing. So, I like the idea of merging traditional techniques and technology. In the future, for example, we might create 'Smart' typefaces that promote legibility by adapting to users' reading difficulties.
Design in my DNA
I've been a designer for 25+ years. My interest in design, architecture, and typography started at a very young age. I had parents who encouraged me to follow my creativity and an uncle who was an artist. The first time I saw the logo design process was when my uncle designed the Golden Jubilee logo for the Monarchy in Jordan. After that, I started to notice how his Jubilee logo works across all kinds of media. And all I wanted to do was to design a logo for a big idea.
My first taste of the industry
At 12, I leapt at the opportunity to help finalise and ink technical drawings for an architecture firm. Later, I got a weekend job at a traditional printer creating print-ready material. I was fortunate enough to experience the metal press and manual print process before the digital domination of typography and graphic design.
Graphic Design and Typography Studies
I studied Graphic Design at Yarmouk University in Jordan. My mind was opened to many exciting disciplines, including furniture design, fine art, cinema and photography. I went on to the UK to study Type Design at the University of Reading.  I'm preparing to do a Master's Degree in Typeface Design at Reading University with interests centred on typography and Arabic typeface design and history.
A career-defining project
In 2003, I joined the team at Al Ghad newspaper as an art director. I designed the newspaper's logotype and layout design and choose the Arabic typeface for its headlines and body text. The experience turned my career path towards brand development and typeface design.
International experience
I've worked across Jordan, Bahrain, Qatar, Saudi Arabia, the UK, UAE and Turkey. Working in different markets, learning from people with different perspectives has helped me develop valuable creative, leadership and business skills.
Overhaul is born
12 years out of uni, I found myself frustrated by how design companies were managed in the Middle East. I also felt I had not achieved my creative goals or worked on any dream projects. So in 2009, I quit my job and started my own company, Overhaul.
The vision
My work experience had given me a clear idea of the type of agency I wanted to create. Overhaul guides Middle East Clients towards more successful branding decisions, delivering strategy, visual identity and marketing solutions. At the same time, we give back to the communities where we operate.
Diverse, exciting projects
Through Overhaul, I've had opportunities to go for and achieve the kind of work I'd always aspired to. We've designed logos for over 15 Aramex programmes and participated in their recent rebranding. In 2010, we won the logo design competition for Sheikh Mohammed bin Rashid Al Maktoum's
Al Jaleelah Hospital
against leading international design firms. And in 2012, we won the logo design bid for King Abdullah II's new
Queen Alia International Airport
.
Enhancing communities
Through Overhaul, I'm enabled to take part in projects that make our world a better place. Collaborating with Joan Zalacaine, we created
Qibla Mecca Smart Wayfinding System
to help ease crowding and increase safety during the pilgrimage to Mecca. I led my team in designing the pedestrian wayfinding system and street furniture. This project won Gold in the International Institute Information Design (IIID) Awards in Vienna.
Growing young talent
My aim with Overhaul and my post-graduate degree is to continue doing great work – not just in design and typography but also by inspiring the next generation of designers. I'd like to encourage more young people to follow their creative interests into exciting, rewarding careers.